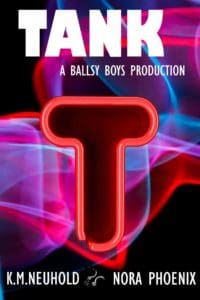 Tank
Shallow pretty boy, conceited fuckboy, immature assclown. Take your pick, they all apply to Brewer. The world is his ass buffet, and we're all on the menu. I've never hated anyone like I hate Brewer. But when Rebel pairs us to do a scene together, I have to admit I'm looking forward to taking all my irritation out on his…well, you get the picture. When one scene turns into a whole fake relationship, I'm not sure we're going to make it out of this without some bloodshed.
Brewer
Tank has got to be the most boring, stuck up ass I have ever met. That man doesn't know how to have fun, not even when he's doing a scene. And if there's one reason to smile, it's working with me, right? All the more reason to keep my real self from him because he'd laugh me out of the room. But when we have to pretend we actually like each other, something unexpected happens. The more time we spend together, the more I see a different side of him…and dare to show a different side of me. What the hell is happening?
Tank is the second book in the Ballsy Boys Production series. It can be read as a stand-alone, but it's more fun reading the series in order. Expect plenty of laughs and a lot of sparks.
Available now on Amazon and in Kindle Unlimited!